Can you grow your business when many around are shrinking?
I think you can, and I wanted to share my ideas with you.
My last blog suggested ways of adapting to market needs and I explained how I had added to the Salient range of offers by promoting courses on Zoom (or other platforms). Are there other ways of growing your market? The first four major areas you can consider are:
Market Penetration
Market Development
Product Development
Diversification
The Ansoff Matrix shows clearly how these are related: (Igor Ansoff – Harvard Business Review 1957).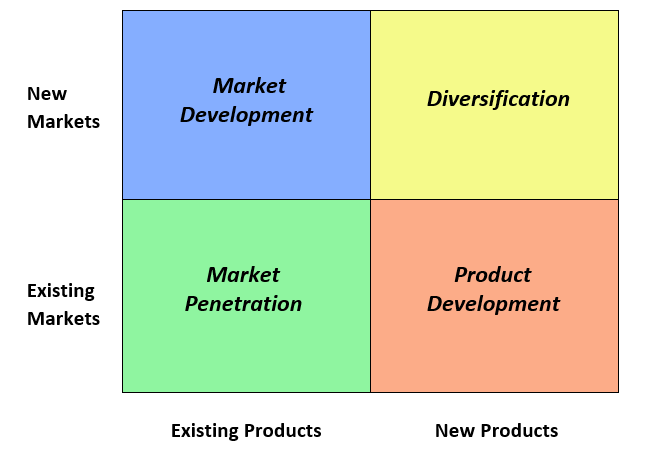 Market Penetration means selling more of what you offer into your existing market.
Market Development is selling your present range of goods or services into new markets.
Product Development describes selling new products into your existing markets.
Diversification involves selling new products or services into new markets.
As an example of market development, my sales modules and programmes are now fully recorded and available to purchase from the Salient website (here: https://tinyurl.com/y44gahlg !)
I am promoting and selling my existing courses, general sales and technical sales, into a new market. The new market comprises those businesses and individuals who prefer to learn and experience in their own time and space, rather than attend at specific times and locations which can be inconvenient to their own businesses.
Product development can be achieved by adding something that compliments or is a relevant addition to your existing range of products and services. Ideally, this should be something you have identified by asking the market what else they need, or at least your existing customers!
Market penetration in simple terms is finding more ways of selling what you have in the market you presently target. For this I would recommend revisiting dormant customers and making contact with 'lost' business. Business previously lost may be looking again for a new supplier and we may only have lost it by a small margin.
Diversification can be fun! Lateral thinking can result in some great ideas for additional products and services which will attract new interest in your business. I caution you to prepare well and to do some useful and effective market research prior to this. It is essential you know what your potential customers want and need before committing time and funds to developing new products and attacking new markets. However, the rewards can be high as 'out-of-box thinking' can make a significant difference to your turnover and profit.
Finally, the fifth way of growing your business, and a less risky alternative would be Collaboration, again with much preparation and due diligence. You would halve the cost of any such growth plans by working with another trusted business. However, you may halve the risk, but you will also halve the profit made!
Your first choice is whether you try and 'ride-the-storm', or, work smarter and develop your business. If you choose the latter, your second choice can be made from a number of options as outlined in the matrix above. When the 'new norm' arrives, if you have used the time wisely and prepared for growth, you will be much more secure as a business than those that have relied on rationalisation and hope.
If you are interested in hearing more about our 'applied sales' courses, in general or technical markets, then please contact Andy on 07941 041364, [email protected]
If you would like to learn more about the Salient recorded sales training programmes, visit the offers on our website here: https://tinyurl.com/y44gahlg