Helping our clients find more customers and win more sales
…successfully, repeatedly, ethically
Salient Sales - Live-On-Line Tailored courses
All Salient courses and sessions are now available Live-On-Line, in addition to our conventional In-The-Room training courses.
Tailored courses designed to exceed your needs, and your business needs, we remain –
Interactive
Informative
Motivational
Inspirational
- Still helping you to Find More Clients, and Win More Sales.
- With courses and sessions in part or all of General Sales and Technical Sales
- Designed and tailored for your business, to meet or exceed your specific needs
- Sessions from one hour to one day; Courses are from 2 days to 5 days.
The Ultimate 'How to Sell More' sessions!
For more details, call 01793 843118, or 07941 041364 or email andy@salientsales.co.uk
Sales & Marketing Training and Business Development Coaching from Salient Sales & Training
We focus on relationship selling, developing customer loyalty and repeat business; going the extra mile and growing with your customers.

Applicable to all industries, markets, products and services
Specialisation: Salient Technical Sales Training
Developing sales by building rapport with both commercial and technical or specialist personnel.  Applying proven methods for achieving 'buy-in' from both sides to secure the deal.
Salient Mentoring Programme
Mentoring & Motivating
Individuals, Teams or Groups
Practical Help & Guidance
Goal, Objective and Target Setting
Strategy Development
Measure, review and guide
Salient Sales & Training provides individuals and businesses large and small with a wide range of skills, techniques and tools to help them improve their performance in Sales, Marketing and Business Development.
We provide:
Practical sales, marketing and business development workshops and courses, tailored to any and every business
Effective coaching in ethical sales, marketing and business development
Business mentoring for development, growth and success
Sales team assessment services
Part time interim sales or account management
Ongoing support in the application and implementation of new skills and techniques
Valuable insight into what the buyer looks for and what they value
At Salient Sales & Training we believe aggressive or pressure sales techniques are not the way forward in successful sales and business growth. Therefore we have developed a more effective approach to sales, based on integrity, that builds worthwhile business relationships and encourages two-way loyalty. 'Ethical Sales' techniques build lasting loyalty and help to guarantee repeat business and referrals, and make business growth easier and more rewarding.
Whether you are a start up business, a sole trader, an SME or a larger concern, we can tailor our sales, marketing and business training to suit your needs. We run both open courses and bespoke training and mentoring packages.
Salient Sales and Training can provide training and coaching in sales, marketing and business development in three ways, all in-line with the latest covid-19 safety recommendations:
In person at your site or at the Salient office in Royal Wootton Bassett,
On-Line courses available in real-time on Zoom or your preferred platform
Recorded, covering the whole sales programme in modular form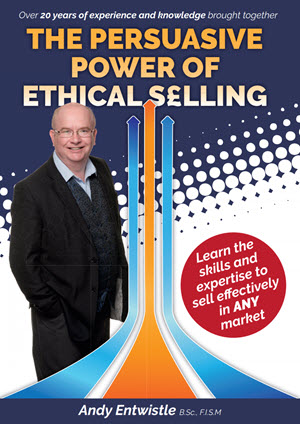 The persuasive power of ethical selling
The skills and expertise needed to sell effectively in any market
Can you grow your business when many around are shrinking? I think you can, and I wanted to share my ideas with you. My last blog suggested ways of adapting to market needs and I explained how I had added to the Salient range of offers by promoting courses on Zoom (or...
read more
Contact Us
Salient Sales & Training
andyentwistle@salientsales.co.uk
01793 843118 or 07941 041364
Unit 17, Bowman House, Whitehill Lane, Royal Wootton Bassett, SN4 7DB