"Wise people learn when they can. Fools learn when they must."
- The Duke of Wellington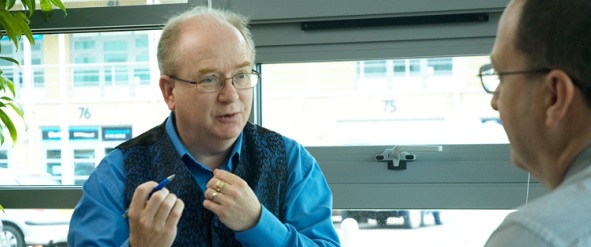 The key to building a successful business is to set goals, define actions and implement them – but it's often difficult to find the time to work on your business when you're already busy working in it.
Salient Sales & Training offers a bespoke coaching and mentoring service that is individually tailored to your needs. Having a business development plan makes a huge difference to the speed and level of growth a business achieves, and with our help you'll learn how to get out of the daily grind and start moving your business in the right direction.
"Andy has helped me to focus on my business potential and how to achieve goals, which has been well worth the time and money. His professional manner is refreshing!"
Suzanne Gore, Only Mortgages
Case Study
A former MD of a European manufacturer of electronic measuring equipment had become an entrepreneur offering his services as a business consultant.  His market was larger, technical companies and he could clearly add valuable experience to every company he approached.  What he lacked was a clear message and forward plan for growth.  Working with Salient Sales & Training helped him to structure a business plan, implement  strategies and create consistent marketing messages as well as developing all the tools and techniques he needs to ensure his future business is successful.
Salient Sales & Training offers business development coaching and mentoring that is tailored to your requirements and timescales. To find out more, call us on 01793 843118 or email us today.
"Andy was very supportive, providing lots of ideas and encouragement to help my business grow."
K.S. Professional Photographer
"An excellent and well delivered session that opened my eyes to new possibilities and
ideas. I will definitely work with Salient again."
A.G Business Owner, PA Services
"A really useful, practical and thought-provoking day, well worth the investment."
M.K. MD of Cool Waters
"A very relevant course, filled with helpful advice, tips and guidance; professionally
delivered."
J.S. of Powercalm
"Great to take time-out to focus with someone who knows what they are talking about."
TAW of Hamilton-Grace
"Very worthwhile"
SP of Heat Right
"Really good service, it has definitely improved the way we think."
JV of JV Assoc.
As we move slowly back towards life as we used to know it, people keep talking about the 'New Norm'.  If you challenge them, they appear to have little or no idea as to what this New Normality will be. Many believe we will rely much more on the internet to do business...
We need proof. How many emails, written articles, blog posts, letters and so on, do you receive that are 100% spelt correctly or read well?  For me it is far too few. Almost every written contact I receive, or publication I read, has some form of mistake on it.  I'm...