WHY IS SELLING INTO TECHNICAL MARKETS THAT MUCH MORE
DIFFICULT AND COMPLICATED?
I spent nearly 20 years selling various products and services into technical markets.  During this time I developed a 'best practice' sales process that could be applied to any business.  However, technical markets require an added layer of expertise, over and above the 'standard' approach. Often there are barriers to making a sale which are difficult for those who were trained in a different discipline to appreciate and to overcome.
The Problems
Nine times out of ten, the problems in selling to technical clients are those of communication, or rather the lack of it.  The biggest issue of all? -  Finding the real decision maker(s).
Larger Companies
Unless you are dealing with very small companies, there is much separation between technical departments and commercial departments.  This separation is often physical and cultural.  In many cases the two disciplines have different structures, priorities, thought processes, jargon, decision making processes etc.  It is hardly surprising that each discipline requires a different sales approach.
Sometimes, just one of the departments, purchasing or technical, is involved, but this is rare, and in such cases technical sales skills will still be required.
Smaller companies
In smaller companies, it is common for the decision makers two wear at least two hats and sometimes it is necessary that the roles and responsibilities of both disciplines are controlled by one person.  This means that the decision maker is likely to be either an engineer attempting to grasp the essentials of sales and the commercial processes, or, they are business-trained and working hard to define the technical aspects of their need.  In either case they would benefit from learning the priorities, needs and requirements of their 'secondary' discipline.
Important tip:  don't just take the word of the first contact you make that they are the decision maker.  They may believe they are but there are likely to be others who will seek and expect to at least influence that decision, if not take the responsibility themselves.  It is important to engage with everyone involved, technical and commercially based.
What we do to help
Salient offers a two, three or four day course in Technical Sales Training, covering sales essentials and the extra layers of skill needed to overcome the barriers and to improve sales conversion and success.
Our latest course was presented to a team from a French company based in Bordeaux.  Feedback from the course was very positive, with the team managers saying:
   " The delegates were from non-English speaking background with varying degrees of experience. Each person found the training offered useful for our day-to-day sales programme.  We were also able to identify new marketing strategies to put into effect immediately.  Thank you!"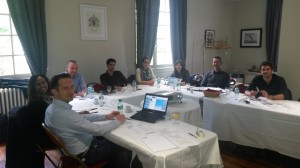 " A very enjoyable and fruitful experience to help us think more sales and less technical"
For more details, click here, or contact Andy on 01793 843118 or 07941 041364